Mark Edwards, CEO of AIM Altitude, and Richard Bower, Group Commercial Director at AIM Altitude, joined Sir Tim Clark, President of Emirates Airline and Sheikh Ahmed bin Saeed Al Maktoum, Chairman and Chief Executive of Emirates Airline and Group, at Airbus in Hamburg to celebrate the delivery of Emirates Airline's 100th A380 aircraft.
AIM Altitude has manufactured every one of the 100 Onboard Lounges for the Emirates A380, which in the words of Emirates itself "remains one of the biggest draws of the aircraft to date, and is arguably the most popular spot at 40,000 feet."
Richard Bower, Group Commercial Director at AIM Altitude, said: "We are delighted to be able to celebrate this milestone with Emirates Airline and Airbus. The Horseshoe Bar on the A380 quickly became an iconic feature for Emirates and we are very proud to be able to say that it is built by AIM Altitude."
First engineered and produced by AIM Altitude in 2008, the bar has gone through successive subtle changes to keep it permanently up to date. A brand new look was unveiled last July with the significant task being undertaken once again by AIM Altitude. Seating space has been increased in the lounge and the whole area has been given a lighter, airier feel, inspired by the design of luxury yachts.
AIM Altitude's skill is in making the seemingly impossible, possible. By developing and certifying new materials, delivering innovative engineering and manufacturing solutions, and developing new technologies, like its own automated LED mood-lighting system, AIM Altitude is able to deliver more and more pioneering cabin interiors.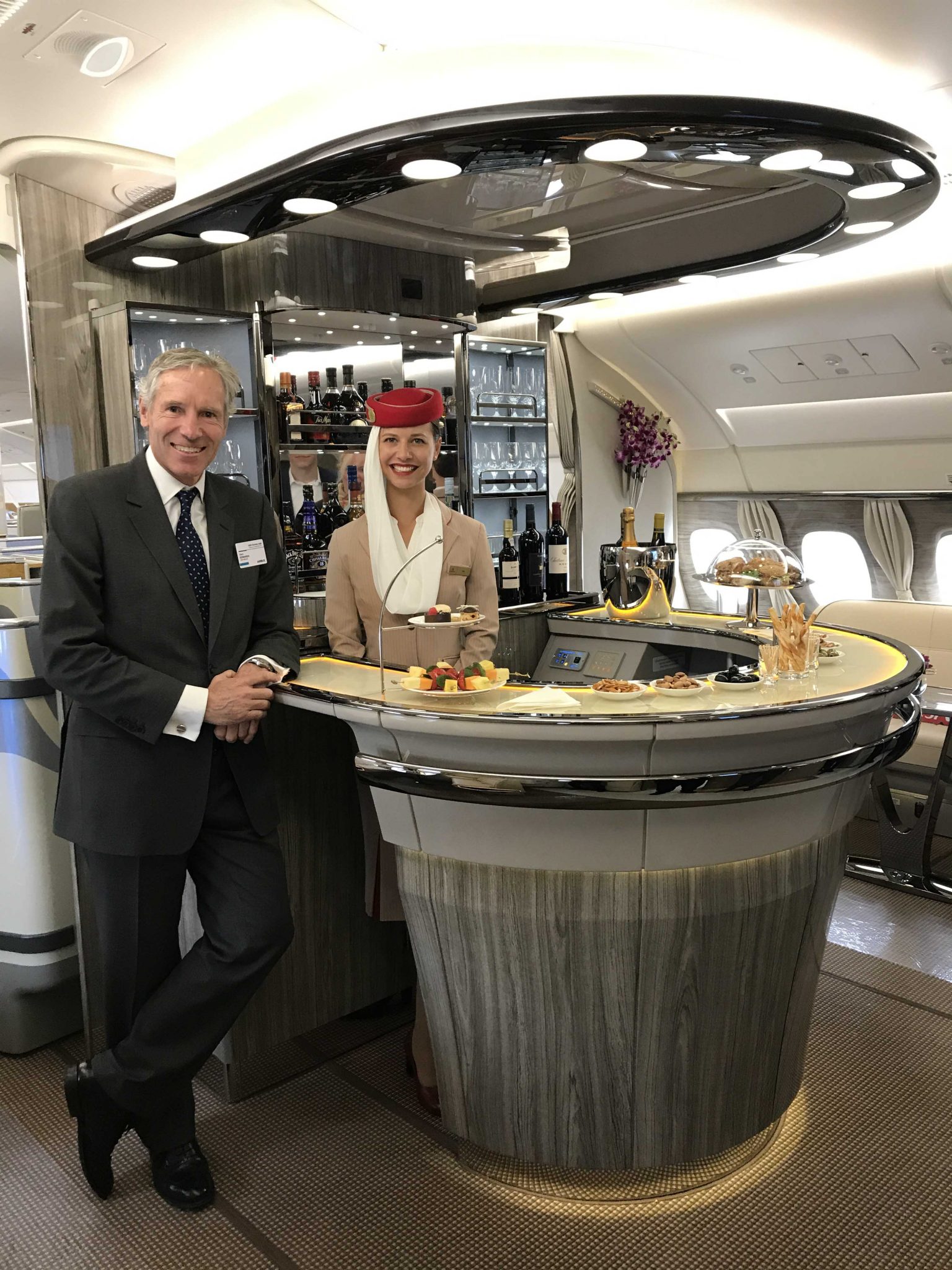 Mark Edwards, CEO of AIM Altitude with Emirates A380, 100th Onboard Lounge