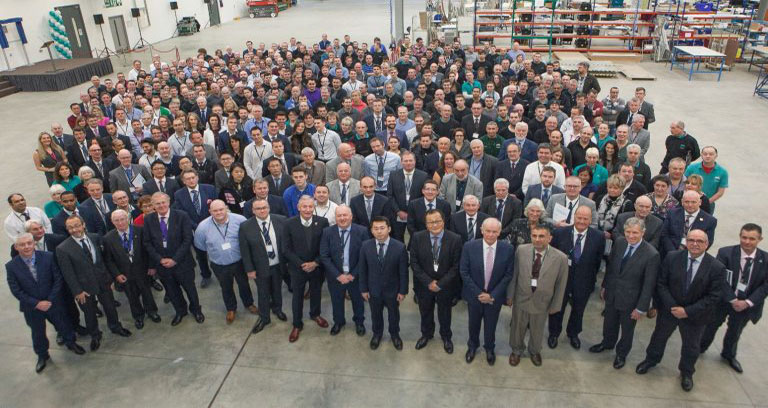 On Monday 19th December, Sir Tim Clark, President of Emirates, officially opened AIM Altitude's new purpose-built facility at Bournemouth Airport. The opening ceremony was attended by Mahmood Ameen and Nadir Bhola, Senior VP Engineering Projects and Manager Engineering Projects of Emirates; Peer Wiebe, Vice President  Airbus; Members of the Chinese Embassy; Christopher Chope MP; Nick Geary, Deputy Mayor of Christchurch; and around 400 members of staff from AIM Altitude.
The ceremony was to celebrate the opening of the 168,000 sq ft facility, which brings the whole of AIM Altitude's Cabin Interiors division into one building and also serves as the headquarters of the AIM Altitude group.
Mark Edwards, CEO of AIM Altitude, said: "We were delighted to be able to welcome such esteemed guests to our new facility and we are very grateful to Sir Tim Clark for his role in the official opening. This also provided the opportunity to thank our staff for their hard work over the past year and we hope that the new facility will aid them in continuing to create world-leading cabin interiors."
The state-of-the-art factory encompasses new machinery, including an additional paint-and-bake booth, to bring the total to four painting booths, and a fully integrated preparation area, serving both paint and trim. The layout of the new shop floor facilitates process flow, with an open, flexible, main assembly area allowing product programmes to be changed quickly if required. Key production leaders, production controllers and the quality team have also been integrated into production cells.
The whole facility has been built on lean principles, shortening throughput times by reducing the distance parts travel in manufacturing, improving the line-side parts storage, shortening communications between departments and improving visual management of projects.
A customer experience area has also been introduced. The show-case area allows customers to visit AIM Altitude and see existing products in a dedicated space, as well as a demonstration area where customers can see their products as they develop.